"Religion that God our Father accepts as pure and faultless is this: to look after orphans and widows in their distress and to keep oneself from being polluted by the world." James 1:27, NIV
ROCK Audits: The audits conducted by Ellie and Neil with the assistance of two interpreters, Robert and Maurice from Nairobi, were very encouraging. This is the second year Robert and Maurice served as interpreters. Last year they helped the site visit team uncover exaggeration and deception during the interviews. Upon return to the USA last year, new applications were filled out by children and their caregivers. Ruth worked tirelessly to rectify applications, birth certificates, death certificates, school records, and national ID cards with information from the 2014 interview and application forms.
This year's team uncovered only a few cases where past stories did not match information on the actual certificates provided through the application process. However, the applicants were desperate, and felt pressured to embellish their stories to qualify for ROCK funds. Leaders, caregivers, and children asked forgiveness and forgiveness was given. All applicants are very needy. The team was encouraged that funds are being used appropriately, being reminded of the frailties of people Jesus ministered to and His patience with them.
Food Shelf: Neil addressed Helen's group following the Sunday service. The food shelf for the group Helen works with provides much needed grains for HIV sufferers. Helen and her co-worker have been selected by Chief David to work with HIV positive students in the area.

Provided by some generous donations to Outfitters a few years ago, the van continues to transport HIV/AIDS patients to a clinic in Ogembo for their treatments. The medication along with the food shelf have improved the quality of life. There is a serious drought in Kenya this year, and the first crop was a total disaster.
The animals have eaten grass to the ground and are very skinny. Our friends in the Kisii district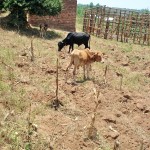 of Kenya need prayer for rain, but they also need our help in providing food for the widows and their children until another crop can be planted and harvested. 
Chief David: Our annual visit to Chief David's office is always a blessing.
Chief David attended a funeral in Sengera a couple of years ago. After the funeral the 4 children of the deceased had nowhere to live and no one to look after them. Chief David's heart was so moved, he offered to let them live in one of his houses. Kenneth asked for ROCK funding and now he and Chief David are caregivers for the 4 children.
School Visits: The team ministered in 3 schools: Mary's Christian school, Josiah's public school, and his former school. Mary leads children in her school to Jesus before the team arrives.Josiah was hired this year as principal in a school closer to his home. Hundreds of students in Josiah's present school asked Jesus into their hearts following Ellie's appeal. 
A deaf mute girl in Josiah's former school was introduced to us. The staff are beside themselves, because she needs special help. The best solution would be a special boarding school for the deaf, but that would cost additional fees the family cannot afford. 
This year several soccer balls accompanied the luggage, and were spread among the schools. The children were thrilled to receive them. Soccer is one of
 their favorite sports, and the few balls they are given comprise the only athletic equipment provided in their schools. Most of their balls are made from wadded up plastic bags netted together with twine. Next year soccer balls will be purchased in Nairobi. They cost less and are of higher quality in Kenya.
Please Pray for Kenya:
1. Rain for crops and livestock. Kenya and much of Africa is in a severe drought that will destroy crops, livestock, and people. After our travel reports went out by email, our friends and supporters have been praying and it has begun to rain in Kenya. Please pray that the rains will continue as needed that they may have a good harvest.
2. End to terrorist attacks. Another Muslim extremist attack broke out April 2, 2015 at a university in northern Kenya. Although this is a long ways from the Kisii region, people all over Kenya were once again in mourning. Please pray for peace in Kenya.
3. Healing for HIV/AIDS victims. Praise report: two children who had tested positive for HIV a few years ago (their mother is in Helen's HIV/AIDS group) have now tested free of the HIV virus. This is a miracle of God's healing! Join us in prayer for more to be healed of this deadly disease.